Professional Services
See how CompulabsCloud™ can provide you more than a website
We offer a library of ready-to-use themes as part of the platform. If you would like, we can customize a theme's elements such as font, font size, colors, as well as any basic graphic work such as banners, image formatting and other tweaks. If you have multiple sites that need uniform branding, then you will working with experts in multi-site branding.

If you would like help transferring content from your current website, your search is over! Our team of programmers will take care of transferring all the data into your new site and will even help design your CompulabsCloud™ site with your new content in place. Contact us for more information.
Would you like us to update your website content for you? We do this on an hourly basis for occasional updates. Alternatively, purchase prepaid hours at a discounted rate for ongoing content updates! Inquire for more details. Note, that this does not include custom design work.
Want a unique theme for your website or newsletters? Do you have precise requirements on how your site should look? Based on your requirements, you can have a our team bring your ideas to life on your new website! The Design and Creative Coach can create email templates, custom widgets, banners, graphics, logos, and more. Already a customer but want to refresh the look of your site? Consider having our Design & Creative team provide a website redesign.
All our solutions are built to adapt to any size screen or IT hardware.  We seamlessly integrated the latest IT features directly into your website via the Compulabscloud™ platform!
Need an online store built for an organization?  You can track member due,  event tickets, donations, and purchases in one seamless environment.
See what we've done for our clients.

NAACP Fort Worth/Tarrant County
"CompulabsCloud™ is a highly professional company that is customer focused and as a result very responsive to the needs and request of our company."
The solution
We created their website in our new platform CompulabsCloud™. Creating the quality web presence for the chapter included the following:
Website Design
Website Management and Maintenance
Custom Input Forms
Integrate Membership Payments
Premium Integrated Social Media Module
Website Copy and Content
Auto email subscription form
Dynamic Web Pages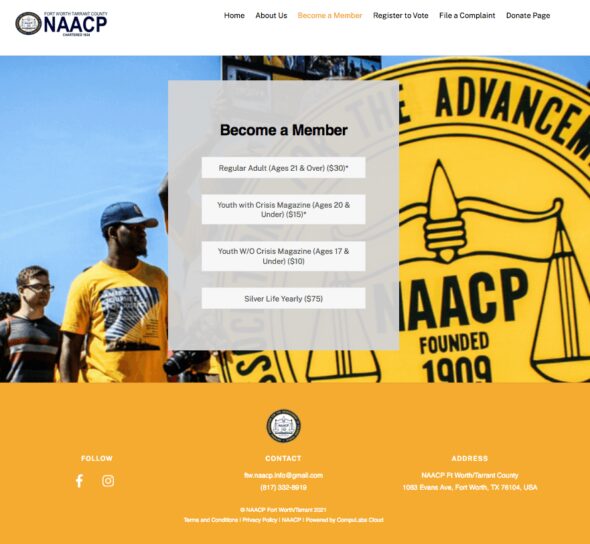 Create transformational value today!
Become a connected organization today!